You are here
Back to top
Love Is Love (Hardcover)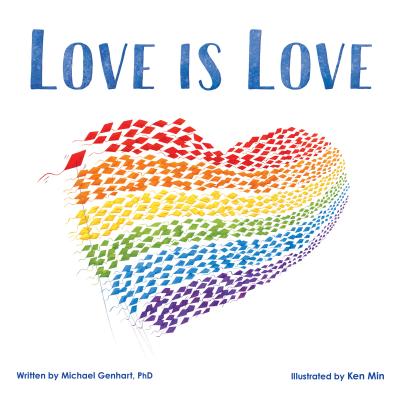 $18.99

Usually Ships in 1-5 Days
Description
---
Open a dialogue with the children in your life about the importance of love and acceptance with this Silver Moonbeam Award Winner story celebrating open mindedness, diversity, and the LGBTQIA+ community. Perfect for your family library or a storytime read-aloud for any day of the year.
It's love that makes a family.
When a boy confides in his friend about bullies saying he doesn't have a real family, he discovers that his friend's parents—a mom and a dad—and his two dads are actually very much alike.
Dr. Michael Genhart's debut story is the perfect resource to gently discuss discrimination with kids. This sweet and straightforward story shows that gay families and straight families and everything in between are all different kinds of normal. What makes a family real is the love that is shared.
Love Is Love is the book for you if you're looking for:
LGBTQ+ books for kids
Books about diversity for kids
Books about equality for kids
About the Author
---
Dr. Michael Genhart has been a clinical psychologist in private practice in San Francisco and Marin for 25 years. He has experience working with children, adolescents, adults, couples and families, dealing with various facets of mental health and illness: anxiety, depression, relationship conflict, trauma, abuse, sexuality, work stress, bereavement and chronic health conditions. During this time, he has specialized in working with children who have gay or lesbian parents, gay teens and coming out issues, samesex relationships, and LGBTQ parenting matters. Additionally, he has supervised advanced psychology student interns through local doctoral training programs and been a consultant to colleagues particularly with regard to working with the LGBTQ population. He has also spent the last fifteen years visiting and speaking at local elementary, middle and high schools to engage students in conversations about LGBTQ issues. He is a consulting psychologist to The Campaign to Change Direction which aims to change the story about mental health, mental illness, and wellness in this country, and he is coauthoring a children's picture book on the topic.
Ken Min will tell you he was born on an ice floe and raised by a clan of penguins who read to him every night from the works of Margret & H.A. Rey, William Joyce, and DC Comics. He'll also say that he learned to paint by throwing his food at the walls. In reality he was born in Los Angeles and studied illustration at Art Center, College of Design. He has storyboarded for various commercials and animated TV shows such as The PJs and Futurama. His illustration work has been recognized numerous times by the Society of Children's Book Writers & Illustrators (SCBWI). In 2012, the first picture book he illustrated, Hot, Hot Roti For Dada-Ji, received the Picture Book Honor Award for Literature from the Asian Pacific American Librarians Association (APALA). These days, you will find Ken illustrating, storyboarding, writing, and dreaming up stories for children. Ken lives in Los Angeles.
Praise For…
---
"Simple and beautiful... Definitely a picture book I wish had been read to me when I was a little kid!" — I'm here. I'm queer. What the hell do I read?

"Love Is Love is a gentle yet straightforward story that shows that love is what makes a family. A great resource to discuss discrimination! " — Colours of Us

"Love Is Love makes plain the truth of its title for all kids and parents. Children and young adults still face harassment because they have LGBTQ parents. In accessible and gentle language, Love Is Love tells the simple story of these families…spoiler alert…they are just like every other kind of family. The point is no child should ever feel stigmatized for having LGBTQ parents and by embracing all families, we are elevating our own and proving that love is love." — Kate Kendell, Esq., Executive Director of the National Center for Lesbian Rights

"Love is Love graciously calls into focus the fact that LGBTQ families are full of the same main ingredient as their peers' families: love. In a day and age when we tend to focus on our differences, Love is Love is here to remind us that the love of family is a shared value across cultures and family structures, and it gives our children the language they need explain that." — Amanda Hopping-Winn, Chief Program Officer, Family Equality Council

"A heartfelt affirmation of queer love... A strong message." — Kirkus Reviews