You are here
Back to top
All the Little Hopes: A Novel (Paperback)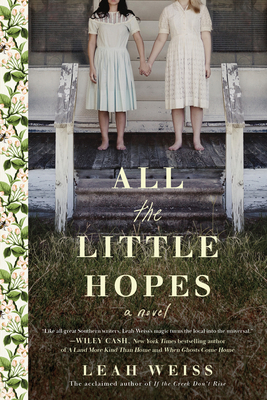 $16.99

Usually Ships in 1-5 Days
Description
---
"Will break your heart, but Leah Weiss's beautiful writing will sew it back together again" —Wiley Cash, New York Times bestselling author
A Southern story of friendship forged by books and bees, when the timeless troubles of growing up meet the murky shadows of World War II.
Deep in the tobacco land of North Carolina, nothing's been the same since the boys shipped off to war and worry took their place. Thirteen-year-old Lucy Brown is precocious and itching for adventure. Then Allie Bert Tucker wanders into town, an outcast with a puzzling past, and Lucy figures the two of them can solve any curious crime they find—just like her hero, Nancy Drew.
Their chance comes when a man goes missing, a woman stops speaking, and an eccentric gives the girls a mystery to solve that takes them beyond the ordinary. Their quiet town, seasoned with honeybees and sweet tea, becomes home to a Nazi prisoner-of-war camp. More men go missing. And together, the girls embark on a journey to discover if we ever really know who the enemy is.
Lush with Southern atmosphere, All The Little Hopes is the story of two girls growing up as war creeps closer, blurring the difference between what's right, what's wrong, and what we know to be true.
About the Author
---
LEAH WEISS is a Southern writer born in North Carolina and raised in the foothills of Virginia. Her debut novel If the Creek Don't Rise was released in August of 2017. Her short stories have been published in The Simple Life magazine, Every Day Fiction and Deep South Magazine. You can contact her on her website leahweiss.com.
Praise For…
---
"Small town North Carolina during WWII is brought vividly to life with German prisoners, missing husbands, and hidden stories. All the Little Hopes is abuzz with fascinating characters—Aunt Fanniebelle, Trula Freed, and especially Bert and Lu, two very different girls on the cusp of adulthood, learning about life's mysteries as they play Nancy Drew and investigate three puzzling disappearances. Lush, poetic prose, characters you'll not forget, and immersion in a past that has lessons for today make this a compelling read." — Vicki Lane, author of And the Crows Took Their Eyes and the Elizabeth Goodweather Appalachian Mysteries

"All the Little Hopes is as warm-hearted as the sun that beats down on Lu's family's tobacco fields. With feisty heroines and a fascinating yet little-known piece of American history as a backdrop, this is a coming-of-age story with a mystery at its heart. Yet the novel's crowning achievement is Weiss's creation of the Browns - a family that, in keeping with the best literary traditions, every reader will long to be a part of." — Kate Moore, author of the New York Times bestseller The Radium Girls and The Woman They Could Not Silence

"Like all great southern writers, Leah Weiss's magic turns the local into the universal. All the Little Hopes is both a deep-dive into the life of a North Carolina town during WWII and a national portrait of an era with all of its attendant glories and pains. I love this coming-of-age novel - its portrayal of friendship, the complications of family, the threats that outsiders can bring. Lucy Brown and Allie Bert Tucker will break your heart, but Leah Weiss's beautiful writing will sew it back together again." — Wiley Cash, New York Times bestselling author of A Land More Kind than Home and When Ghosts Come Home

"Wrapped in hope and mystery, this beautifully crafted story, set under a warm North Carolina sun, is full of heart. You won't want to miss this one." — Kathleen Grissom, New York Times bestselling author of The Kitchen House and Glory Over Everything

"With her latest novel All the Little Hopes, Leah Weiss confirms the place she's earned among top-notch historical fiction writers. Her thrilling, coming-of-age story of two young girls in the tobacco country of the Carolinas, growing up in the shadow of World War II, is compelling, alarming, and heart-breakingly satisfying. It grippingly explores the mysteries of one of my favorite themes: Who can really be trusted when the chips are down?" — David Gillham, New York Times bestselling author of City of Women and Annalies

"Leah Weiss has done it again. Another powerful, masterly observed story. This time, firmly setting us down in tobacco land North Carolina with two teenaged girls at its heart and told in language that is uniquely Leah's. I read the novel with my jaw dropped open. For Leah's fans, prepare to be thrilled again. For future ones, get set to be." — Bren McClain, author of One Good Mama Bone

"All the Little Hopes is the kind of wise, compassionate and deeply empathetic novel that we all need right now. In this heartening and heartrending book, Leah Weiss embodies a whole world in her affecting portrait of a small North Carolina tobacco farming community turned upside down by the loss and hardship visited upon its inhabitants during World War II. It's a novel with an irresistible emotional momentum, as we follow all the ways its characters cope with a war come home. Weiss's lyrical sentences are in themselves little wonders, tugging us along, delivering us to one surprising place after another and, in so doing, somehow restoring us to ourselves." — Tommy Hays, author of The Pleasure Was Mine and In the Family Way, Retired Director of the Great Smokies Writing Program and Lecturer Emeritus at University of North Carolina Asheville

"I fell in love with Leah Weiss's debut, If the Creek Don't Rise, and have been waiting with toe-tapping anticipation for the release of All the Little Hopes. Set deep in tobacco country in North Carolina, Lucy Brown and Allie Bert Tucker capture readers hearts and won't let go. Weiss richly draws characters so vivid readers feel they are walking the tobacco fields of Riverton, North Carolina. We taste the deliciously rare purple honey, sing along with Glenn Miller, and cheer as Lucy and Bert piece together clues and solve a mystery fit for the pages of a Nancy Drew novel." — Renea Winchester, author of Outbound Train