You are here
Back to top
Anything But Fine (Hardcover)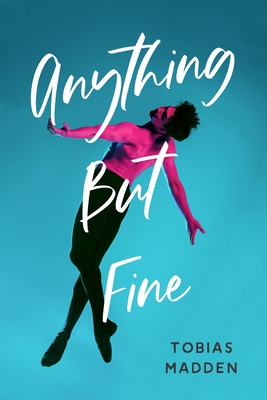 $18.99
You may still support the bookstore by ordering this title from us at https://bookshop.org/shop/adventureboundbooks.
Description
---
All it takes is one missed step for your life to change forever.

Luca Mason knows exactly who he is and what he wants: In six months, he's going to be accepted into the Australian Ballet School, leave his fancy private high school, and live his life as a star of the stage—at least that's the plan until he falls down a flight of stairs and breaks his foot in a way he can never recover from.

With his dancing dreams dead on their feet, Luca loses his performing arts scholarship and transfers to the local public school, leaving behind all his ballet friends and his whole future on stage.

The only bright side is that he strikes up unlikely friendships with the nicest (and nerdiest) girl at his new school, Amina, and the gorgeous, popular, and (reportedly) straight school captain, Jordan Tanaka-Jones.

As Luca's bond with Jordan grows stronger, he starts to wonder: who is he without ballet? And is he setting himself up for another heartbreak?
About the Author
---
Originally from Ballarat, Australia, Tobias worked for ten years as a dancer, touring the country with musicals such as Mary Poppins, Cats, Singin' in the Rain and Guys and Dolls. He now lives in New York City with his husband, Daniel, and their Cavoodle, Ollie. In 2019, Tobias edited and published Underdog: #LoveOzYA Short Stories. He also co-wrote the cabaret show Siblingship, which played to sold-out audiences in Sydney, Melbourne and Canberra. Tobias's debut novel, Anything But Fine, was published in 2021 and shortlisted for ABIA Book of the Year for Older Children. His second novel, Take a Bow, Noah Mitchell, is available now. Tobias is a passionate member of the #LoveOzYA and LGBTQ+ communities, and he currently works full-time in digital marketing.
Praise For…
---
"Debut author Madden manages his significant emotional content with admirable aplomb and his plot with verve, offering keen insights into his empathic characters' lives. The result? An altogether lovely book that comes highly recommended." — Booklist, starred review

"A reflective, romantic, and emotional coming-of-age story." – Kirkus Reviews

"Anything But Fine is everything wonderful I love in a book: characters so real they breathe, a rollercoaster of a story that made me laugh, cry, and swoon, and vivid, gorgeous writing. Brilliant."
—Jennifer Niven, #1 New York Times bestselling author of All the Bright Places

"In Anything But Fine, Tobias Madden delivers a stirring meditation on identity and grief. Sweet, warm and thoroughly delightful, it will quickly dance its way into your heart."
—Krystal Sutherland, bestselling author of Our Chemical Hearts

"A messy, funny, and heartwarming book that brilliantly tackles the difficulties of grieving your biggest dreams, the headrush of first love, and the complexities of friendship."
—Adiba Jaigirdar, bestselling author of The Henna Wars

"Luca's wit is the armor shielding his tender and sweet insides, and what brilliant armor it is. This book is the funniest I've read all year, which makes its vulnerability and poignancy only more powerful."
—Eliot Schrefer, New York Times bestselling author of The Darkness Outside Us

"Heartbreaking yet ultimately uplifting and romantic, Anything But Fine explores how hard the fall from a great high can be, and what it means to pick yourself back up again. With unforgettable, realistic characters you can't help but root for, this contemporary is a must-read for everyone who's ever been left wondering how to find themselves again when their entire world is uprooted."
—Sophie Gonzales, author of Only Mostly Devastated

"Luca and the whole cast of Anything But Fine will forever be pirouetting in my soul! With so much humor and heart, Tobias Madden shows that whether it's coming out, romance, friendship, school, or career ambitions, there's no singular right way to get where you're going. Even when seemingly insurmountable obstacles come your way, sometimes the biggest triumphs come from dancing into the unexpected."
—Jason June, author of Jay's Gay Agenda

"Sincere, charming, emotional, and chaotic, Anything But Fine is an honest portrayal of how equally terrifying and beautiful figuring out who we are and who we can be is."
—Jonny Garza Villa, author of Fifteen Hundred Miles from the Sun

""Luca's story had me laughing, crying, and cringing—sometimes all on the same page. Anything But Fine has authentic characters, addictive plotlines, and writing that feels like a warm hug. What a delightful book."
—Robbie Couch, author of The Sky Blues

"Anything But Fine is anything but just fine; it's everything inspiring, complicated, and beautifully human, like a pirouette. Luca is a broken ballet dancer trying his best to find himself in a new world where his dreams are as shattered as his foot, but Tobias Madden deftly explores how imperfect the path is to rebuilding, finding yourself, and forging ahead when all seems lost. With a messy, swoony romance and an array of complex and evolving relationships, Luca's story is a lesson in realizing that the only misstep is not taking the next step, and the power that comes from within."
—Steven Salvatore, author of They Can't Take That Away

"I was hooked from the first paragraph and I absolutely loved this book! At its heart is such a fresh, diverse, heartwarming love story that anyone will love, no matter how they identify. I cried at times but I smiled so often while I was reading this. While it was at times raw, devastating and real, it was such a fun, cute and romantic read, and I fell in love with Luca over and over again! I was cheering for Luca from the beginning and continue to cheer for him beyond the final page."
—Gary Lonesborough, award-winning author of Ready When You Are

"Anything But Fine is a hilarious and moving portrait of what it means to reassess your life when your future suddenly looks very different to what you've always dreamed. Tobias Madden has created a queer love story that is fresh, romantic and thoroughly entertaining."
—Erin Gough, award-winning author of Amelia Westlake Was Never Here

"Anything But Fine is a gorgeous story about love, loss, friendship and hope—and about finding your true self after your one and only dream shatters into a thousand pieces."
—Fleur Ferris, bestselling author of Risk