You are here
Back to top
Cosmoknights (Book One) (Paperback)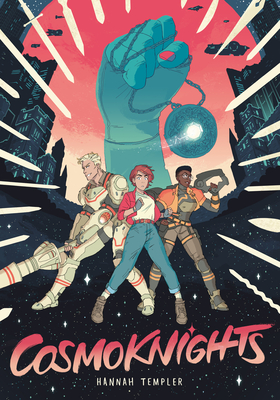 $19.99

Usually Ships in 1-5 Days
Description
---
For this ragtag band of space gays, liberation means beating the patriarchy at its own game.

Pan's life used to be very small. Work in her dad's body shop, sneak out with her friend Tara to go dancing, and watch the skies for freighter ships. It didn't even matter that Tara was a princess... until one day it very much did matter, and Pan had to say goodbye forever. Years later, when a charismatic pair of off-world gladiators show up on her doorstep, she finds that life may not be as small as she thought. On the run and off the galactic grid, Pan discovers the astonishing secrets of her neo-medieval world... and the intoxicating possibility of burning it all down.
About the Author
---
Hannah is a queer cartoonist and graphic designer currently living in Seattle. She graduated from Cornish College of the Arts in 2011 and has since worked as a colorist, cover artist and interior artist on well-known titles such as Samurai Jack, Tomb Raider, and Jem and the Holograms. She has also worked for several years at various Seattle design agencies, most recently as a UX designer at States of Matter. She enjoys life with her trusty dog Thistle and grumpy cat Noodle, and plays tabletop roleplaying games as often as she can.
Praise For…
---
"A gorgeous and timely space adventure saga... Every panel hums and crackles with glowingly lush, well-realized worldbuilding. The dynamic action sequences, which merge tech and renaissance tropes, seem to leap off the page. But as lovely as Templer's art is, it's her political commentary that shines brightest... a dazzling vision of radical direct action—with rocket boots." — Publishers Weekly (starred review)

"Templer's exploration of this neo-medieval world is gorgeous... Fun, yet still deeply political." — Samantha Puc, The Beat

"Pan's journey to recognizing her own worth and identity as a feminist is earnest and believable... readers will enjoy the ride." — Kirkus Reviews

"Queer romance, friendship, and wild mech battles against the patriarchy? I'm not sure what more you'd need." — Barnes & Noble SF (Best of the Month)

"A fast-paced, beautifully drawn, feminist space romp with a diverse cast of characters. The artwork, all purples, pinks, oranges and blues, really does a wonderful job making Pan's world come alive. This story will resonate with anyone who has ever dreamed of exploring and changing the world—as well as those who just enjoy a gripping, action packed adventure story with queer folk in space... richly drawn, unique, and captivating." — Megan Baird, YALSA

"Always entertaining and engaging from the first page, readers will be wowed by the colorful and eye-popping Cosmoknights... the sci-fi story and the incredible visuals are combined into one remarkable reading experience." — Villain Media