You are here
Back to top
In the Waves: My Quest to Solve the Mystery of a Civil War Submarine (Paperback)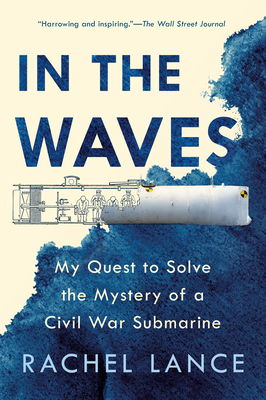 $18.00
You may still support the bookstore by ordering this title from us at https://bookshop.org/shop/adventureboundbooks.
Description
---
 
One of "The Most Fascinating Books WIRED Read in 2020"

"One part science book, one part historical narrative, one part memoir . . . harrowing and inspiring."—The Wall Street Journal 

How a determined scientist cracked the case of the first successful—and disastrous—submarine attack
 
On the night of February 17, 1864, the tiny Confederate submarine HL Hunley made its way toward the USS Housatonic just outside Charleston harbor. Within a matter of hours, the Union ship's stern was blown open in a spray of wood planks. The explosion sank the ship, killing many of its crew. And the submarine, the first ever to be successful in combat, disappeared without a trace.
 
For 131 years the eight-man crew of the HL Hunley lay in their watery graves, undiscovered. When finally raised, the narrow metal vessel revealed a puzzling sight. There was no indication the blast had breached the hull, and all eight men were still seated at their stations—frozen in time after more than a century. Why did it sink? Why did the men die? Archaeologists and conservationists have been studying the boat and the remains for years, and now one woman has the answers.
 
In the Waves is much more than just a military perspective or a technical account. It's also the story of Rachel Lance's single-minded obsession spanning three years, the story of the extreme highs and lows in her quest to find all the puzzle pieces of the Hunley. Balancing a gripping historical tale and original research with a personal story of professional and private obstacles, In the Waves is an enthralling look at a unique part of the Civil War and the lengths one scientist will go to uncover its secrets.
About the Author
---
In addition to writing, Rachel Lance is a biomedical engineer who specializes in patterns of injury and trauma, and she is especially fascinated by blast and ballistic events. She works as an assistant consulting professor at Duke University, where she conducts research at the Center for Hyperbaric Medicine and Environmental Physiology. Before returning to graduate school to earn her PhD, Rachel spent several years as an engineer for the United States Navy, working to build and test specialized underwater equipment for use by navy personnel. Her doctoral work presented the first equations to predict the risk of injury and fatality from underwater explosions and has already received numerous international citations. A native of suburban Detroit, Rachel lives in Durham, North Carolina. In the Waves is her first book.
Praise For…
---
"A page-turning tale of personal obsession to solve a great historical mystery frozen in time. Rachel Lance dives deep into an era during the Civil War when combatants took almost unimaginable risks, then uses a thrilling combination of creativity, ingenuity, and curiosity to answer questions long thought lost beneath the waves. A wonderful adventure told by that rarest of breeds--a scientist who writes beautifully and won't relent until she knows."
—Robert Kurson, New York Times bestselling author of Shadow Divers and Rocket Men

"In the Waves draws the reader deep into a layered mystery, rich with explosive experimentation, Civil War history, and the engaging personal narrative of a young scientist. As persuasive as she is passionate, Rachel Lance expertly unravels the tragedy of the Hunley, complete with its scientific and historical context. Yet Lance's book reveals more than torpedo blasts and shock waves: it is an inspiring look at what is possible when devotion and science are joined."
—Nathalia Holt, New York Times bestselling author of Rise of the Rocket Girls: The Women Who Propelled Us from Missiles to the Moon to Mars

"In the Waves is a thrilling expedition into one of the great unsolved mysteries of the Civil War. Harnessing the revelatory wonders of the digital age and her own undersea expertise--along with gritty determination and persuasive powers--Rachel Lance has delivered a mesmerizing tale of science, history, tragedy, and adventure!"
—Liza Mundy, author of Code Girls

"In the Waves is one part science book, one part historical narrative, one part memoir . . . harrowing and inspiring."
—The Wall Street Journal

"Lance deftly blends historical narrative and the unraveling of this scientific puzzle in a thoroughly accessible and entertaining style. . . . This engaging investigative work will intrigue readers of Civil War and naval histories and sleuths of scientific puzzles."
—Library Journal (starred review)

"Ever since the Confederate submarine HL Hunley was brought up from the ocean floor in 2000, with the skeletons of its eight crewmen still at their posts inside the intact hull, conservationists and historians have speculated about their fate. Were they drowned by water pouring in from damage by the torpedo explosion that sank their target, the USS Housatonic? Were they asphyxiated by lack of oxygen and carbon dioxide poisoning? Or did they die from some other cause? In this enthralling account based on extensive research and testing, the US Navy blast-injury specialist Rachel Lance solves the mystery in convincing fashion and offers an important contribution to Civil War literature."
—James M. McPherson, Princeton University, author of the Pulitzer Prize-winning Battle Cry of Freedom: The Civil War Era

"They were the first crew of a submarine to sink an enemy ship, but did they ever have a hope of coming home? To find out, Rachel Lance brings together an unlikely mix of old-style weaponry, modern science, and people who love to make things go bang. This is her determined search to uncover the truth about an impossible mission. It is a great read!" 
—Sherry Sontag, co-author of Blind Man's Bluff

"Rachel Lance's In The Waves is a captivating magic trick of a book: part detective story, part scientific mystery, and part personal essay on the challenges—and triumphs of—researching stubborn history. Lance weaves these threads with astonishing aplomb, and the devastating denouement will haunt you long after you've turned the final page." 
—Karen Abbott, New York Times bestselling author of The Ghosts of Eden Park 

"[Lance] has a firm command of both the scientific and historical subject matter and writes with flair. Her richly detailed account appears to definitively solve this Civil War–era mystery."
—Publishers Weekly

"Anyone who enjoys reading outstanding narrative nonfiction will absolutely love Rachel Lance's In the Waves. Reading it is like watching Sherlock Holmes investigate a murder mystery—if 'Sherlock' were an exquisite writer, a woman, and had to solve the mystery while battling petty academic jealousies. Lance unravels the science and medical hypotheses with engaging observations, venturing from Kurt Vonnegut and the allied bombing of Dresden to Senator Strom Thurmond. And this storytelling 'Sherlock' also packs a genuine sense of humor."
—Gary Kinder, author of Ship of Gold in the Deep Blue Sea
 
"In the Waves—a perfect title for Rachel Lance's captivating tale documenting her obsession with solving the Civil War mystery about a tiny Confederate submarine that successfully blasted apart a Union ship in the Charleston harbor and then disappeared without a trace for 131 years. With determination and a knack for storytelling, Dr. Lance re-creates the daring mission of the HL Hunley and her demise, using precision-based bio-medical expertise to solve the mystery of how her eight-man crew died."
—Ann Blackman, author of Wild Rose, Civil War Spy
 
"When we brought the Hunley up in 2000, we were shattered with exhaustion and had put everything we had into prying the Hunley from the mud of Charleston harbor, but the recovery team assumed that the scientists and researchers who came after us would bring the same passion to the science and the story of Hunley as we had. We were not wrong. Dr. Lance brings a razor-sharp mind and an equally sharp wit to the greatest remaining mystery of the Civil War—how and why did Hunley sink? [Lance's] rigorous and highly accessible science, leavened with more than a few lovingly described characters and wry observations of graduate student life makes In the Waves a compelling explanation and a rollicking good read!"
—David L. Conlin, PhD, Hunley recovery team field director, chief archaeologist, National Park Service

"Lively . . . An entertaining account of research that solved a historical mystery." 
—Kirkus Reviews

"This solid, engaging mystery recounts Lance's quest to solve the mystery of the crew of the Confederate submersible Hunley . . . in a lively, entertaining, novelistic style that carries the reader along with all the verve of an Agatha Christie whodunit."
—Booklist

"Important, timely, and deeply entertaining . . . In the Waves is many things, all of them entertaining to read: a scientific documentary woven with thriller-novel intrigue, a serious history accented with gentle snark, and a rapidly paced recounting of the dogged pursuit of scientific truth and a PhD. But In the Waves is also an accessible and important exploration of the injury deeply affecting the current generation of America's service members."
—Garden & Gun