You are here
Back to top
An American Summer: Love and Death in Chicago (Hardcover)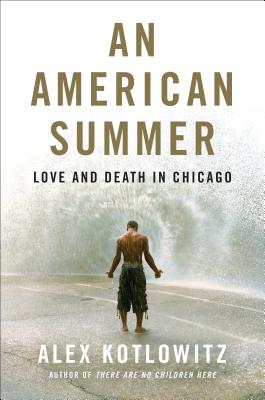 $27.95
You may still support the bookstore by ordering this title from us at https://bookshop.org/shop/adventureboundbooks.
Description
---
2020 J. ANTHONY LUKAS PRIZE WINNER

From the bestselling author of There Are No Children Here, a richly textured, heartrending portrait of love and death in Chicago's most turbulent neighborhoods.

The numbers are staggering: over the past twenty years in Chicago, 14,033 people have been killed and another roughly 60,000 wounded by gunfire. What does that do to the spirit of individuals and community? Drawing on his decades of experience, Alex Kotlowitz set out to chronicle one summer in the city, writing about individuals who have emerged from the violence and whose stories capture the capacity--and the breaking point--of the human heart and soul. The result is a spellbinding collection of deeply intimate profiles that upend what we think we know about gun violence in America. Among others, we meet a man who as a teenager killed a rival gang member and twenty years later is still trying to come to terms with what he's done; a devoted school social worker struggling with her favorite student, who refuses to give evidence in the shooting death of his best friend; the witness to a wrongful police shooting who can't shake what he has seen; and an aging former gang leader who builds a place of refuge for himself and his friends.
     Applying the close-up, empathic reporting that made There Are No Children Here a modern classic, Kotlowitz offers a piercingly honest portrait of a city in turmoil. These sketches of those left standing will get into your bones. This one summer will stay with you.
About the Author
---
Alex Kotlowitz is the author of the national bestseller There Are No Children Here, which the New York Public Library selected as one of the 150 most important books of the twentieth century. His second book, The Other Side of the River, was awarded the Heartland Prize for Non-Fiction. For his documentary film, The Interrupters, he received an Emmy and a Film Independent Spirit Award for Best Documentary. Kotlowitz's work, which has appeared in The New York Times Magazine, The New Yorker, and on public radio's This American Life, has been honored with two Peabody awards, two duPont-Columbia University awards, and a George Polk Award. He is a writer in residence at Northwestern University. Kotlowitz lives with his wife, Maria Woltjen, and their two children, Mattie and Lucas, just outside of Chicago.
Praise For…
---
"An American Summer is an archive of the war--like finding a shocking but beautiful bundle of letters and photographs in the attic.  Except that these dispatches reflect the daily violence that many Americans are experiencing, right now, in too many of our cities. Alex Kotlowitz dispenses with wooden categories of criminal and victim. With his uncommon warmth and sensitivity, he makes us understand that violence doesn't happen in a moment; it's a state of affairs."
--Sarah Koenig, host of Serial

"Unforgettable . . . Like Kotlowitz's now classic 'There Are No Children Here,' An American Summer probes the human damage that stems from exposure to violence . . . a powerful indictment of a city and a nation that have failed to protect their most vulnerable residents, or to register their pain."
--Eric Klinenberg, The New York Times Book Review

"Alex Kotlowitz has written daringly . . . readers who join his harrowing journey surely will emerge with deeper and kinder understandings, and perhaps feel morally implicated by their understanding of the grim realities his summer tour shows us.  Kotlowitz is a brilliant reporter who covers one of America's most heartbreaking beats. . . Kotlowitz's accounts of love, friendship, parenting, rivalry, humiliation and the pressure to maintain respect are fascinatingly real."
--Minneapolis Star Tribune

"A reporting mosaic . . . a painful chronicle about an extremely violent city based on the narratives of those who managed to survive its streets.  With this book, Kotlowitz amplifies the words of those who have witnessed [violence] and makes their experience available to readers. The experience is tremendously necessary."
--NPR.org

"This is shoe leather reporting at its finest. The author does not appeal to sentiment. Rather than offering opinion or conjecture, he writes matter-of-factly about the people who live and die on the periphery of American society."
--Pittsburgh Post-Gazette

"An American Summer is so compelling it's almost impossible to put down."
--The Daily Beast

"This book is revelatory and brilliant. There Are No Children Here changed me when I read it years ago. An American Summer has done it again."
--Wes Moore, bestselling author of The Other Wes Moore and CEO of the Robin Hood Foundation

"A masterpiece of real-life storytelling. With each unforgettable story, Kotlowitz draws us into the lives of people living and working in some of Chicago's most abandoned communities. The stories of suffering and revenge unsettle and enrage; those of grace and forgiveness warm and inspire. Together, they dispel with cheap explanations, offering deeper sense to acts thought senseless and revealing people's depth and humanity lost in the headlines."
--Matthew Desmond, Pulitzer Prize winning author of Evicted

"In his latest powerful sociological exploration, [Kotlowitz] masterfully captures the summer of 2013 in neglected Chicago neighborhoods, rendering intimate profiles of residents and the "very public" violence they face every day. . . A fiercely uncompromising--and unforgettable--portrait."
--Kirkus, starred review

"Kotlowitz has a ruminative, almost poetic sensibility . . . The violence is made palpable but never romanticized. Kotlowitz's approach is empathetic in this bold, unflinching depiction of an ever-lengthening crisis."
--Publishers Weekly, starred review

"[A] heartfelt and, at times, surprisingly hopeful portrait of a city battling intractable ills. By giving each and every person he talks to the time and respect to tell his or her story, Kotlowitz evokes fully dimensional human beings rather than the statistics or caricatures most of us are used to in reports on "bad" neighborhoods."
--Chicago Reader 
 
"What remains after the deaths, the funerals, the court hearings, the jail sentences, the mourning? This is the question at the heart of Alex Kotlowitz's compassionate and unflinching new book, and what emerges speaks to a stubborn, immovable, singular drive towards hope and forgiveness. Kotlowitz reminds us again and again that what happens in Chicago reflects the best and worst of our nation. This spectacular book is an urgent call to bear witness, not to the dying that violence breeds, but to the love that stands tall amidst the debris."
--Maaza Mengiste, author of Beneath the Lion's Gaze

"Alex Kotlowitz doesn't provide solutions to the violence that plagues Chicago. Instead, he eloquently bears witness to a single summer on its streets, chronicling a community's ongoing struggle with murder, misery, and rage. This deeply empathetic and perceptive book isn't easy to read. But we can only see into the neglected corners of America when someone shines a light."
--Christian Science Monitor

"An American Summer is at turns shocking, heart-rending, and deeply moving. But it is always important. This is about the soul of our country."
--Luis Alberto Urrea, author of The House of Broken Angels

"Alex Kotlowitz, America's pre-eminent narrative journalist, has written a searing, profound and profoundly human book about the gun violence that plagues American cities. Everyone who cares about the future of our cities and of our country will come away deeply moved, and with a deepened understanding of the long shadow cast by substandard schools, housing and job opportunities. It's not a call to action, but the stories Kotlowitz tells cry out to all readers to start acting."
--Sara Paretsky, New York Times bestselling author of Shell Game